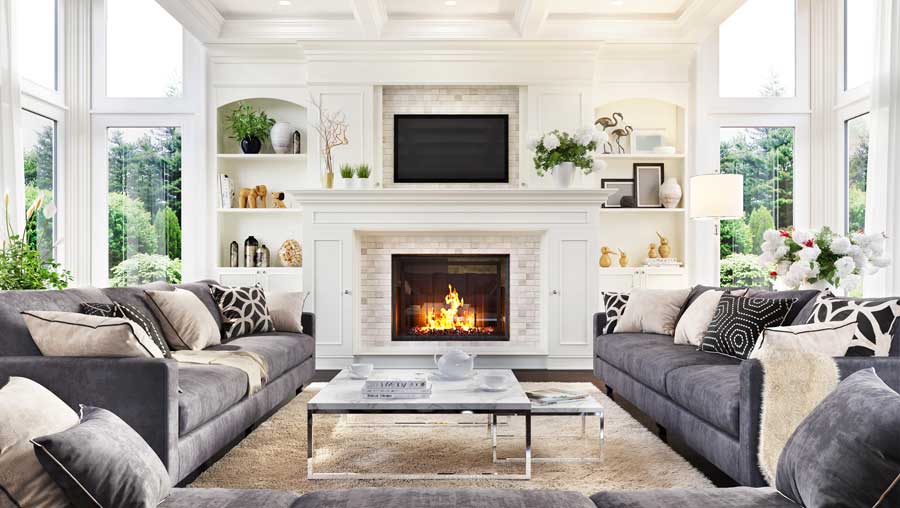 Your fireplace is often the focal point when cold weather arrives. If it hasn't been used in several months, preparing the firebox should be a top priority. Explore these tips for getting your fireplace ready with safety in mind.
1. Perform a Basic Cleanup
Before you try any fire in the fireplace, take some time to prepare the box. Remove any old ash and wood debris. Use the vacuum to suck out the finer powder afterward. Discard the ash or use some of it in the garden as a clever soil additive. Take a moment to inspect the firebox's walls too. There shouldn't be any cracks or damage. If any damage is observed, call a professional for a thorough examination.
2. Hire a Professional
Ideally, contact a professional for an annual inspection. The chimney and fireplace are household structures that must be maintained for value and safety purposes. Professionals can inspect both the interior and exterior sections, including the chimney damper and cap. If you have a gas fireplace, technicians can test it for safe operations.
In fact, the professionals can also remove the creosote or residue that builds up on the chimney walls. Without a yearly cleaning, the entire structure is prone to fire hazards.
3. Inspect the Exterior
Use some binoculars to pinpoint any cracks that might reside on the chimney's exterior surface. Be aware of any tree branches that might hang over the structure too. Prune them well before having a fire.
Don't forget to stock up on firewood that's stored away from the home's foundation. You don't want to encourage pests to harbor in the wood and enter the home afterward. These exterior elements are crucial to a safe and well-organized household with fires blazing every night.
4. Add a Few New Elements
You might take some time before winter to update the fireplace. Think about adding new doors to the firebox, which can provide enhanced safety and better warmth control. Install new fireplace tools and add a shiny key for the gas line. All of these updates will refresh the fireplace's appearance as you focus on safely preparing it for the cooler months ahead.
For any further questions, be sure to give us at BL James and Son a call! We service all heating and cooling systems for both residential and commercial buildings alike so that you are always comfortable year-round. Take care of your fireplace this fall so that winter is a warm and relaxing time for all.
By BL James and Son 10-8-2020